edit (Jan. 27h 2009)
Additional info for visitors from rockclimbing.com forums…. Climbing in Ikaria is possible only if you bring all the gear necessary for trad climbing on limestone and/or granite. There are no bolted sport routes anywhere on the island. Leave a comment should you wish to hear more suggestions on suitable areas and potential problems. BTW I've discussed climbing in Ikaria some more in another post.
Mention Greek islands and most people would probably think of beaches full of German and British tourists, the idea of which will either entice or repulse them. As is usually the case with generalizations, they are usually at least partially right (having been on only three of the islands I can hardly call myself an expert though).
But mention, say… Kalymnos to a group of rock climbers and you're likely to find that they've either been there or desperately want to go there. Not for the beaches you see, but for the beautiful climbing routes. There are numerous websites devoted to the cause and, not having been there myself, I can only daydream and watch videos or photos.
But all that daydreaming is a big injustice to neighboring islands, like Samos or Ikaria… see, when you decide to visit the cave of Pythagoras on Samos, you will inevitably ask yourself how the old fart manage to run up and down every day (I presume there were no white painted stairs back then since he was apparently in hiding) and you will curse the road builders for not having built it higher up towards the entrance.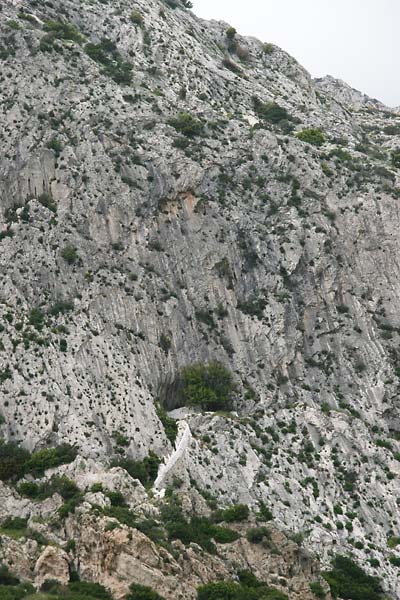 However, if there's any rock climbing blood running through your veins you just might get a bit excited at the look of the wall above the cave, especially once you spot the signs for climbing routes. Not having the necessary gear, or a climbing partner, I only imagined myself going up. And I imagined that Pythagoras chose this specific cave precisely because it was a perfect base from which to climb every day.
There are no recognized rock climbing routes on Ikaria (to my knowledge at least) but that doesn't mean you can't do it anyway. Bouldering fans can enjoy no end of problems and there's enough cliffs over the water to satisfy deep water soloists among you. Traditional rock climbing is quite possible as well and having had a look at several walls all over the island I'm becoming seriously restless.
At least I got a quick fix traversing the ridge extending a short way behind Koskina castle this Sunday. I had the sunrise all to myself…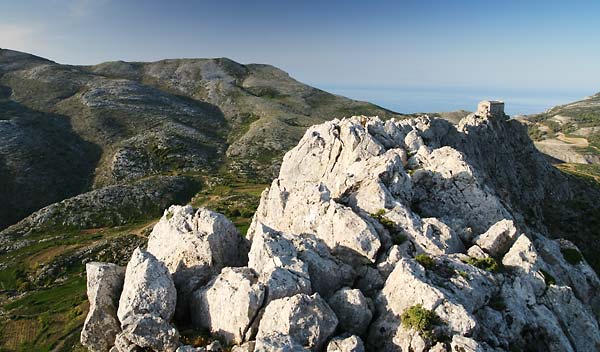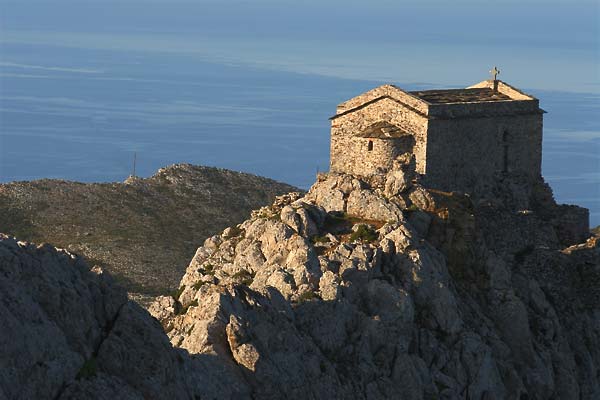 more photos of the weekend rental car road trip around Ikaria in the gallery …as usual.
Here's one from Saturdays sunrise over Lagada valley